Debug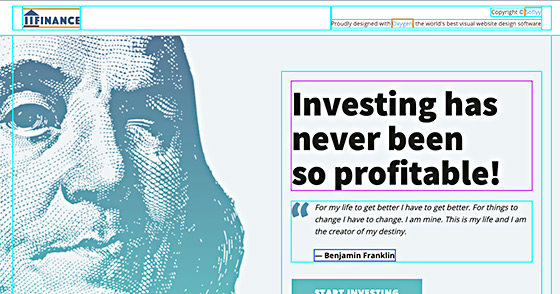 When you doubt why things are not aligning perfectly or overlapping, this will be the perfect helper. It will outline all elements with one click. HTML elements are grouped into six groups, and every group has a unique color.
Groupe 1 - #00fbff
body, article, nav, aside, main, section, header, footer, main, div, menu
Groupe 2 - #da53ff
h1, h2, h3, h4, h5, h6, address, p, hr, pre, blockquote, ol, ul, li, dl, dt, dd, del
Groupe 3 - #4371d0
span, ins, em, strong, i, b, u, s, small, abbr, q, cite, dfn, sub, sup, time, code, kbd, samp, caption, var, mark, bdi, bdo, ruby, rt, rp, br, wbr
Groupe 4 - #f0b
table, thead, tbody, tfoot, tr, th, td, col, colgroup, figure, figcaption
Groupe 5 - #da8301
a, button, datalist, fieldset, form, input, keygen, label, legend, meter, optgroup, option, output, progress, select, textarea, details, summary
Groupe 6 - #00bf16
img, iframe, embed, object, param, video, audio, source, canvas, track, map, area
Unlimited websites
Lifetime support
Documentation and support
More features comming soon
One price,
Lifetime updates and support
$
30
Price will rise as we add more features
Payments are secured with Stripe and PayPal
30-Day Money-Back Guarantee
Probably you will never need this with our owesome products but here it is just in case. If you aren't completely satisfied within 30 days of purchase, you're more than welcome to get a full refund!
Contact support