Font Hero
No Code Font Manager. GDPR way to add Self host Fonts for any WordPress Builder or Theme
Our beautiful plugins with visualised panel lets you easily add self–hosted, static, and variable fonts to any Visual Builder  or WordPress theme without any coding knowledge required. No need to dig into code snippets that need to be maintained with builder updates. The plugin settings are located under Tools and it will not bloat the rest of the WordPress menus.
Starting from
$15.00
Features List
No-code custom fonts setup with beautiful UI
There is no need to dig into code snippets that need to be maintained with Oxygen updates. We provide an intuitive interface with options to fine-tune each font weight.
Made for GDPR
Not self-hosting and using Google Fonts CDN will lead to user ID addresses being personal information leaked. If you are doing that, you can pay a big fine. Otherwise, you will bloat websites with GDPR banners that will ruin the design and user experience. Oxygen and many other builders, by default, use Google Fonts CDN.
Performance Matters. Even google fonts should be self-hosted
Self-hosting fonts have a huge impact on performance. We also added fine-tuning per font-weight to choose FONT DISPLAY options such as swap, block, fallback … Besides font display, you can also fine-tune which font family and font-weight you want to preload. Font preload will remove that nasty font swap when the page is loaded for the first time.
No need to use SFTP Apps or Plugins. EVER!
Changing and updating files is a big pain if your website is already published. With Font Hero, you will use WordPress native media uploader to add new or replace existing font files. Same as for any other media.
Variable Fonts Support
Variable fonts allow several font styles to be defined in a single file. With that new technology, the font file size will be almost the same regardless of how many font weights you will have. That will drastically reduce file size, and website load speed, and you will have more options to style your website.
Supports all visual builders and themes
At this point with initial release we are supporting natively Oxygen Builder, Bricks Builder, Gutenberg and any WordPress theme. Even other builders are not in the list now you can still integrate it with couple of more clicks.
No WordPress menu bloat
Located under Tools Menu. Fonts are not something that you will be changing all the time. With the logic "Set and forget", we decided to move it to the submenu of Tools. This way, it will not compete with other tools you will use more often.
Dark and light theme
Accessibility is important to us. There is a light theme for those who need more contrast and a dark theme to save your eyes for the long run and night shifts.
Builders Integration
Classing WordPress Editor
Gutenberg Editor
Bricks Builder
Oxygen Builder
Breakdance
Beaver Builder
People love it

Support for variable fonts
Font Hero is the only Font Manager for WordPress that supports variable fonts.
A single font file was used for this project
Bonus Font pairing
With Font Hero you will also get professionally unique crafted font pairings with 3 different font families per set. Having 3rd font family is going away one step more from your completion. You can highlight subheadings and get richer styles.
Font Pairing worth 50$
you will get for free.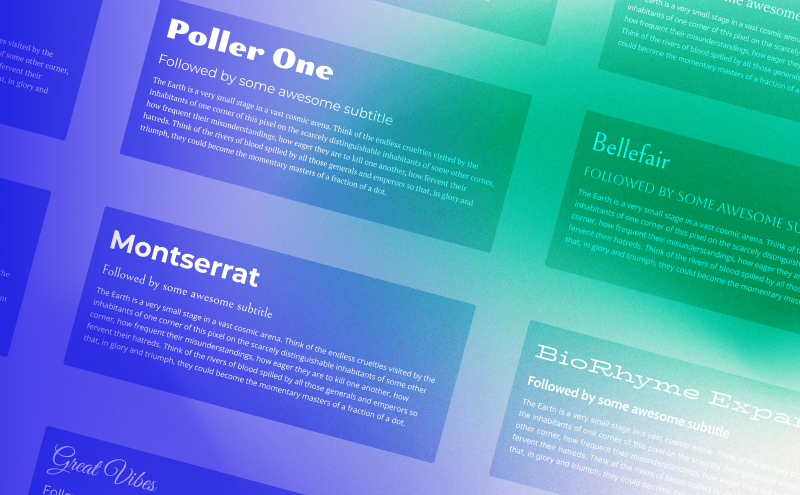 Font Hero Pricing Plans
Choose your lifetime option
Starter
For 1 website
$15.00
1 Active website
Lifetime updates
Documentation
New feature every month
Unlimited support
Agency Plan
For 3 website
$40.00
3 Active Websites
Lifetime updates
Documentation
New feature every month
Unlimited support
Ultimate
Unlimited Sites
$65.00
Unlimited websites
Lifetime updates
Documentation
New feature every month
Unlimited support
30-Day Money-Back Guarantee
Probably you will never need this with our owesome products but here it is just in case. If you aren't completely satisfied within 30 days of purchase, you're more than welcome to get a full refund!
Contact support