We're excited to share some fantastic news with our DPlugins community! We've just released version 1.6.0 of our plugin, and it comes packed with a bunch of exciting features that you've been asking for. But that's not all – we've been working hard to make things even better and have continued to refine the plugin in versions 1.6.1, 1.6.2, and 1.6.3.
Highlighted 1.6 features
Hide menus per user role
Hide Plugins
Login page custom design
WordPress – Enable Login Security
Version 1.6.3 updates
Change super user
The full potential of WP Admin Cleaner is available only to the Super User with ID 1. However, due to security reasons, some developers are deleting users with the ID 1, which can cause issues. To address this concern, we have introduced an option to change the Super User, allowing you to designate another user as the Super User.
By changing the Super User, you can ensure that critical functionalities and access provided by WP Admin Cleaner remain available even if the original Super User with ID 1 is deleted. This way, you can maintain the security and control of your WordPress website while avoiding any potential pitfalls caused by the deletion of the default Super User.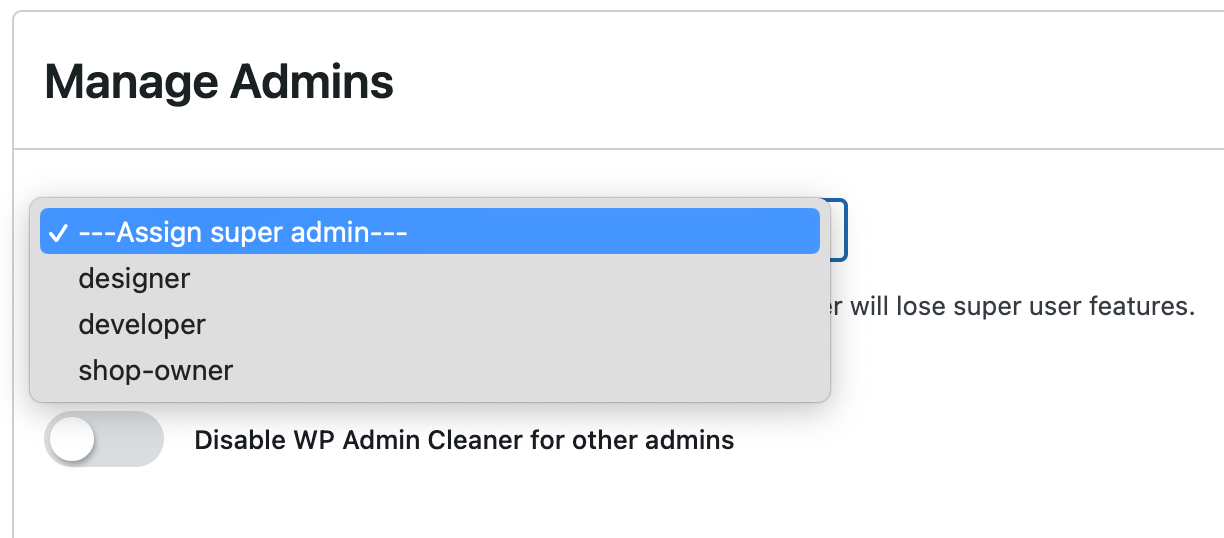 From Version 1.6.3 you can create custom dashboard per use role
You can now create and serve different dashboards per use role.
One for shop owners to see tutorials on how to manage website.
One for Editor to see tutorials on how to write posts.
And one for customers to see their products.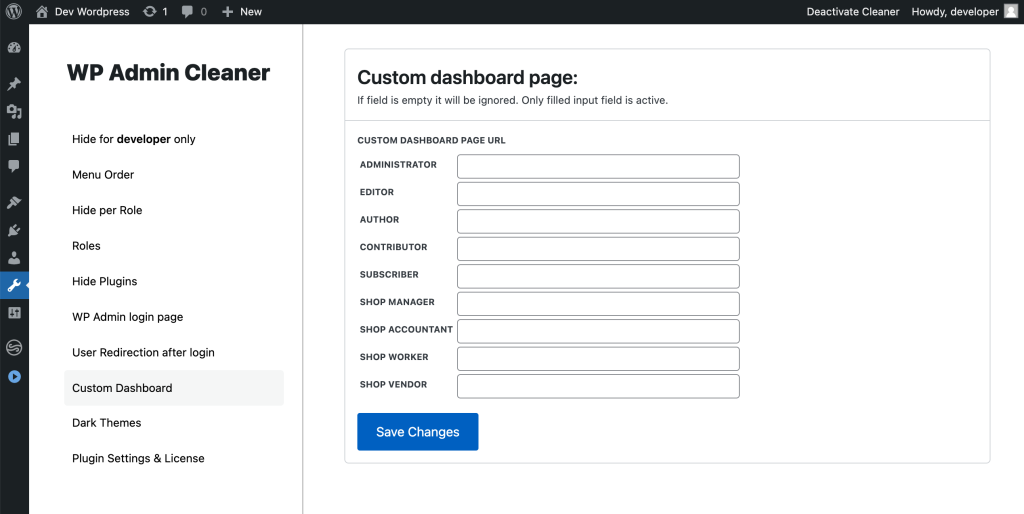 Summarised changes
Menus which are hidden by super admin for other user roles will not show to those users
Assign super user
Delete database on uninstall feature and setting added
Login page logo url
Some minor notices and bug fixes
Bug fix for submenus in hide per role as the items were not available to uncheck them
Bug fix that submenu urls were accessible if user has the url
Custom dashboard page url per user role